Thank you for choosing to support DearSA's #unlockdown legal challenge.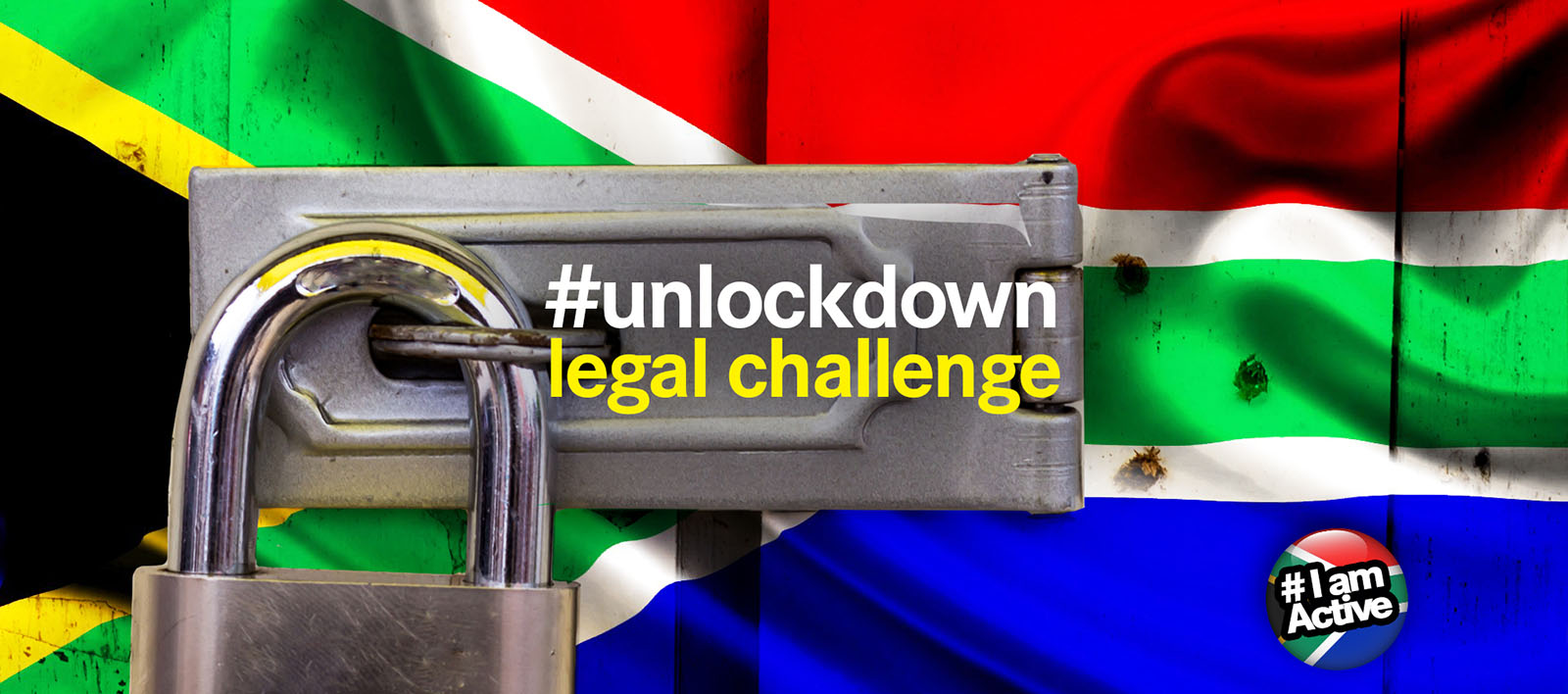 5701 supporters so far.
Add your name below.
Supporters
first-name

decision

message

A

Yes I do

Looking back at the communication from the president of South Africa, available publicly and recorded, it is evident that very little has come of the stated intentions of ensuring that adequate and sufficient medical and other services are available to everyone in South Africa who needs it.
The stated intention with the initial and all subsequent lockdowns were exactly this.
I do not, though, agree with this stated intention, but then even if I did, it is obvious that the honesty and integrity of those charged with the responsibility to make decisions in the best - specifically long term also - interest of South Africa is not sufficient to make these decisions on a rational nor honest basis, and thus it is obvious and evident that the extension to the lockdown, and any further extensions, should not be allowed to be effected.

Neil

Yes I do

Rule by decree must now stop. The govt though does need to find a way of enforcing face mask wearing.

Pat

Yes I do

Ivan

No I do not

Many people fear the consequences of the lockdown (Starvation, depression, suicides, job losses, 19.000 prisoners free, currency in a junk status, bankruptcy) much more than the virus itself.
We are all adults and have been warned about Covid-19 and should behave responsible - as the very most of us do.

John

Yes I do

Lyndene

Yes I do

Joao

Yes I do

Carl

Yes I do

Online, e commerce will not impact negatively on Covid-19 spread, citizens right.

Vincent

Yes I do

Rosemary

Yes I do

The restrictions on exercise are really illogical as they actually cause congestion and far more exposure to other people who are exercising, in a constrained space, at the same time! So, yes, THANK YOU DearSA for taking the initiative here! We need a government that is more flexible in its thinking and its policies. South Africa needs to be SUPPORTED and not hindered. We need to recover from the recent state capture AND the recent downgrading to junk status because of corruption. In a continued and repressive lockdown situation we cannot do this. Even the Ministers themselves will eventually feel the consequences of their own actions!

Johann

Yes I do

Economic growth is necessary

Diane

Yes I do

Louise

Yes I do

Citizens of South Africa should be able to work and generate an income for their families, if long queues may stand close to each other for their grants, a one-on-one business like a hairdresser should be able to operate, when everyone is wearing a mask, using protective clothing etc.

We should be able to exercise/ walk any time of the day. We are going into winter, at 6 a.m. it is still dark and not safe for a lady to go for a run, and if she is an essential worker, she does not have time to shower and get ready to go to work, especially if she is a nurse or doctor who starts a shift at 7 .a.m.


Hilde

Yes I do

Liz

Yes I do
Media release – for immediate distribution
Issued by Dear SA, 8 May 2020
Dear SA challenges government over e-commerce ban and 3-hour exercise limit
Attorneys for civil rights group DearSA today delivered a letter of demand to the Minister of Cooperative Governance and Traditional Affairs, Nkosazana Dlamini-Zuma, challenging the government's ban on e-commerce and its limitation on outside exercise to three hours a day.
The organisation has requested the government amend the Covid-19 lockdown regulations to allow for all forms of online retailing on the grounds that this would support rather than impede the campaign to stop the spread of the virus.
It also wants government to allow South Africans to engage in any form of non-group outdoor exercise during daylight hours, as opposed to the current daily allowance between the hours of 6h00 and 9h00.
Attorney for Dear SA, Daniel Eloff of Hurter Spies Inc, has also notified the minister that unless a response is received by the close of business on 14 May 2020, Dear SA will be compelled to seek urgent relief in court.
"Our client, however, trusts that unnecessary litigation could be avoided and look forward to your urgent response," concludes Eloff's letter to the minister.
The letter raises concerns that government decisions over the lockdown are ad hoc rather than data-driven, which has resulted in a potential massive economic overkill.
Cost of protracted lockdown to human life worse than the disease
The letter to the minister cites data from Pandemic Data and Analytics (PANDA) showing the years of life lost to South Africans as a result of the lockdown could be 29 times more costly to life than the disease itself.
PANDA estimates that nearly 14 million years of life could be lost to the population of SA as a result of the lockdown.
Massive overkill
Various economic studies, some of them by government itself, show that a prolonged lockdown will have a devastating impact on the economy, with the construction sector likely to suffer a 30% decline in employment. A study by SA-TIED suggests the financial and manufacturing sectors are likely to experience a 15% decline in employment if the lockdown is prolonged.
The effect of the lockdown will be a massive decline in the demand and supply of many industries, with particularly severe effects in the service sectors, such as restaurants, entertainment, tourism, travel and hotels, according to SA-TIED.
In a presentation to the Standing Committee on Finance, National Treasury recently warned that it was projecting between 3 and 7 million job losses as a result of a protracted lockdown to fight the spread of Covid-19.
Further data from the Actuarial Society of SA shows that the risks of Covid-19 are highly correlated with age, with more than half the cases requiring hospitalisation in SA occurring in the 70+ age group. Fewer than 5% of all cases requiring hospitalisation are aged below 40.
Lockdown measures cannot stop the virus from spreading, but they can slow down the speed of infections. Lockdowns will not save the lives of those who contract Covid-19 and do not require hospitalisation. They also do not save the lives of those who contract the virus and would sadly and regrettably succumb to the disease even if they gained access to an ICU bed. They only assist those who contract the virus and would survive if they were hospitalised but are unable to receive such care because the health system has been overrun.
Opening e-commerce would reduce contact between infected persons
Dear SA also points to a study showing that the key benefit of e-commerce is that it substantially reduces contact that would be experienced in physical stores. To therefore ban e-commerce on the grounds that this is unfair to bricks and mortar stores is irrational if the purpose is to stop the spread of the disease. Bricks and mortar stores are far more likely to accelerate their online offerings if allowed to do so.
The letter also cites studies from China showing that pandemic outbreaks are much less likely to spread outdoors than indoors. "This means people should be given more freedom to exercise outdoors during daylight hours," says Dear SA. Limiting the exercise window to three hours a day creates congestion and raises the risk of transmission.
Dear SA says it is calling for a reasonable approach to regulations aimed at addressing the public health issue.
Contact Daniël Eloff of Hurter Spies Inc.
deloff@hurterspies.co.za
082 838 5290