A Civil Litigation Fund to challenge the Government's lockdown regulations and other matters.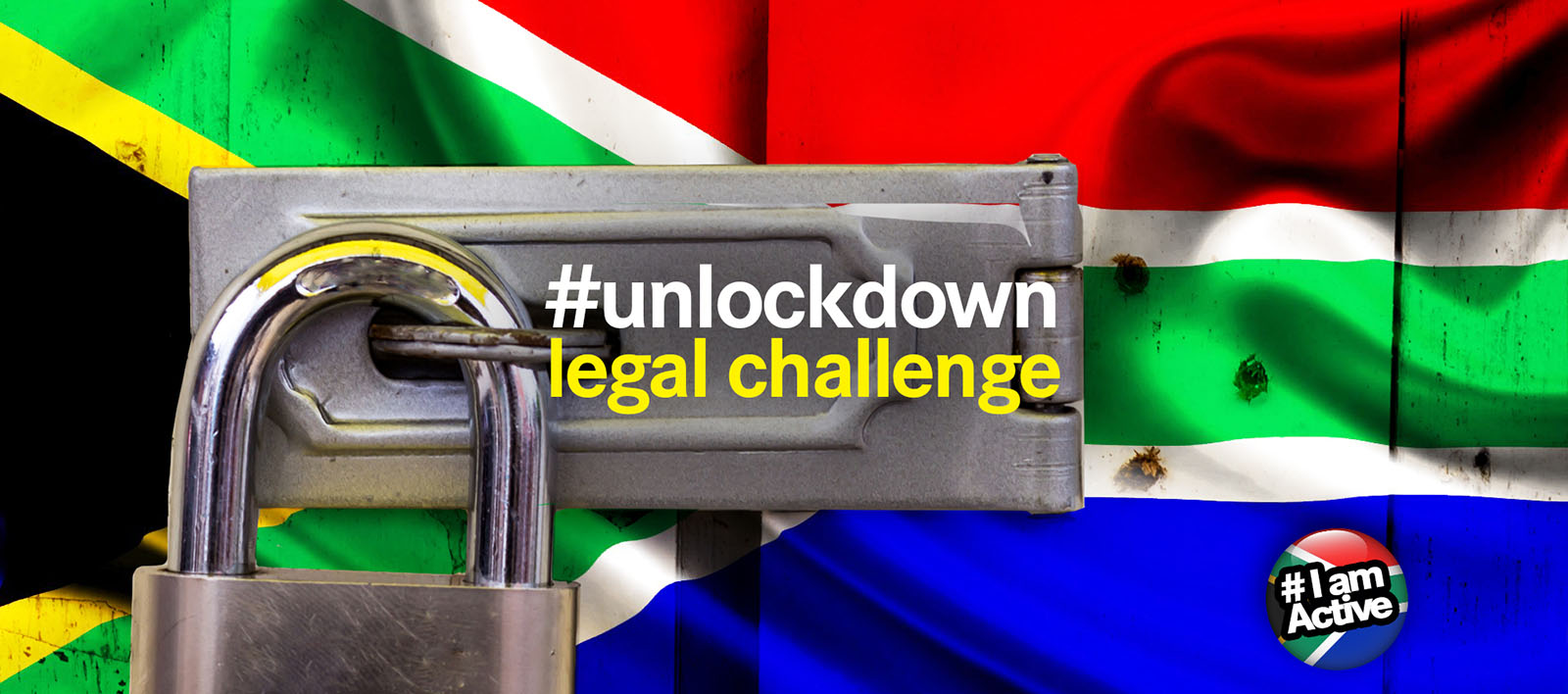 The DearSA legal challenge.
The Government made the call to take the country into a lockdown. They copied many other countries & reacted to models which predicted the worst. Whether you agree with that decision or not, it is in the past.
The restrictions have however been amongst the heaviest in the world.
During lockdown, several of our constitutionally guaranteed rights as citizens have either been severely curtailed or completely taken away. In many cases this has been done without much, if any, justification.
Section 36 of the Constitution allows for the reasonable suspension of rights, not this.
Media release – for immediate distribution
Issued by Dear SA, 8 May 2020
Dear SA challenges government over e-commerce ban and 3-hour exercise limit
Attorneys for civil rights group DearSA today delivered a letter of demand to the Minister of Cooperative Governance and Traditional Affairs, Nkosazana Dlamini-Zuma, challenging the government's ban on e-commerce and its limitation on outside exercise to three hours a day.
The organisation has requested the government amend the Covid-19 lockdown regulations to allow for all forms of online retailing on the grounds that this would support rather than impede the campaign to stop the spread of the virus.
It also wants government to allow South Africans to engage in any form of non-group outdoor exercise during daylight hours, as opposed to the current daily allowance between the hours of 6h00 and 9h00.
Attorney for Dear SA, Daniel Eloff of Hurter Spies Inc, has also notified the minister that unless a response is received by the close of business on 14 May 2020, Dear SA will be compelled to seek urgent relief in court.
"Our client, however, trusts that unnecessary litigation could be avoided and look forward to your urgent response," concludes Eloff's letter to the minister.
The letter raises concerns that government decisions over the lockdown are ad hoc rather than data-driven, which has resulted in a potential massive economic overkill.
Cost of protracted lockdown to human life worse than the disease
The letter to the minister cites data from Pandemic Data and Analytics (PANDA) showing the years of life lost to South Africans as a result of the lockdown could be 29 times more costly to life than the disease itself.
PANDA estimates that nearly 14 million years of life could be lost to the population of SA as a result of the lockdown.
Massive overkill
Various economic studies, some of them by government itself, show that a prolonged lockdown will have a devastating impact on the economy, with the construction sector likely to suffer a 30% decline in employment. A study by SA-TIED suggests the financial and manufacturing sectors are likely to experience a 15% decline in employment if the lockdown is prolonged.
The effect of the lockdown will be a massive decline in the demand and supply of many industries, with particularly severe effects in the service sectors, such as restaurants, entertainment, tourism, travel and hotels, according to SA-TIED.
In a presentation to the Standing Committee on Finance, National Treasury recently warned that it was projecting between 3 and 7 million job losses as a result of a protracted lockdown to fight the spread of Covid-19.
Further data from the Actuarial Society of SA shows that the risks of Covid-19 are highly correlated with age, with more than half the cases requiring hospitalisation in SA occurring in the 70+ age group. Fewer than 5% of all cases requiring hospitalisation are aged below 40.
Lockdown measures cannot stop the virus from spreading, but they can slow down the speed of infections. Lockdowns will not save the lives of those who contract Covid-19 and do not require hospitalisation. They also do not save the lives of those who contract the virus and would sadly and regrettably succumb to the disease even if they gained access to an ICU bed. They only assist those who contract the virus and would survive if they were hospitalised but are unable to receive such care because the health system has been overrun.
Opening e-commerce would reduce contact between infected persons
Dear SA also points to a study showing that the key benefit of e-commerce is that it substantially reduces contact that would be experienced in physical stores. To therefore ban e-commerce on the grounds that this is unfair to bricks and mortar stores is irrational if the purpose is to stop the spread of the disease. Bricks and mortar stores are far more likely to accelerate their online offerings if allowed to do so.
The letter also cites studies from China showing that pandemic outbreaks are much less likely to spread outdoors than indoors. "This means people should be given more freedom to exercise outdoors during daylight hours," says Dear SA. Limiting the exercise window to three hours a day creates congestion and raises the risk of transmission.
Dear SA says it is calling for a reasonable approach to regulations aimed at addressing the public health issue.
The cure should not be worse than the disease. Many South Africans have not only lost many basic human rights but have lost their income and ability to look after themselves and families. We must reasonably balance the health and economic risks.
COVID-19 is very real and is a major healthcare challenge. It's not to be taken lightly. We do however know much more now than we did even a few weeks ago about how best to approach this pandemic.
If government refuses to be reasonable then it must be challenged.
Support This Initiative
If you would like to support this initiative to respectfully challenge the limitation of citizens' rights, then please contribute using the below card, SnapScan, debit facilities, or a direct deposit into the legal trust account held with legal firm Hurter Spies.  ABSA Bank, Branch code:  632005, Account number:  9316879207, Ref: MAT3179 #
Latest supporters
| | | |
| --- | --- | --- |
| Vidette | Yes I do | This Lockdown has no scientific basis, it is solely used to demoralise, destabilise and debilitate citizens. It is dumping the nations' families into poverty. It is stripping away freedom to work, move, worship and discuss. Censorship! This from FREEDOM FIGHTERS?!?!? You have turned into greedy power seekers. This is POLITICAL GAMES. Consider the children! |
| SARAH | Yes I do | |
| Chris | Yes I do | |
(or use the card and debit facilities below)
Dear South Africa will update you as often as possible as to the funds raised, and the course of action.
In the meantime stay safe, wash your hands and wear a mask.
IMPORTANT;

please select #unlockdown from the Campaign

*

dropdown menu below.
ENABLING YOU TO SHAPE GOVERNMENT POLICY
DearSA is a legally recognised and constitutionally protected platform which enables the public to co-shape all government policies, amendments and proposals. We've run many successful campaigns over the past 18 months and have amassed a considerably large active participant database of close on 700,000 individuals across the country and beyond.
We do not run petitions. We run legally recognised public participation processes which allow citizens to co-form policy at all levels of governance. Whereas petitions, even if they contain thousands of signatures, are considered as a single submission by government, our process ensures that each comment made through DearSA is recognised and counted as an individual submission by government.
Furthermore, we keep an accurate record of all participation and produce a publicly available report at the end of each project. This report forms the foundation of a sound legal case should the necessity to challenge the decision arise.
Participation costs you NOTHING, and is so easy and quick to through DearSA that you really have no excuse not to help shape policy BEFORE it becomes law. Legally challenging implemented law is costly and rarely successful. Prevention is better than cure.
Participation in decision-making processes means a possibility for citizens, civil society organisations and other interested parties to influence the development of policies and laws which affect them. We've made it easy for you as a responsible citizen of South Africa, to influence government decisions before they are made.
Participative Democracy is encouraged through the PAJA – the Promotion of Administrative Justice Act, and enshrined in our Constitution.
Every decision the government make must be published in a Government Gazette and must include evidence of public participation. If the public do not participate by objecting or agreeing, their non-participation is deemed as a non-objection, a tacit agreement.
Each comment from any of our web sites is immediately sent as a separate email to the relevant government representative designated to each project.
We do not sell your info on to anyone and we do not charge for what we do.