The Department of Environmental Affairs invites interested parties to submit written comments on the proposed draft Climate Change Bill
You are invited to object or support the Climate Change Bill by providing comment below. Should you be at a loss for words, read the 
live comments

or

official

 

documents

below the form. Feel free to copy and paste into the message area provided.   Closing date is midnight 8 August 2018.

Add your comment now.
266 had a say
A copy of your message will be sent to you along with an automated proof of receipt. Check your junk mail folder if you can't find it.
It is important to note this is not simply a petition but is the first step in an essential Participative Democracy process. And here's the best bit; as each comment is immediately sent as a unique email to the designated government representative, comments must, by law, be individually acknowledged and considered by the Government. Had this been a petition, they would treat it as a single comment.
By using this service you ensure an accurate record is held by civil society (on our encrypted database) so government cannot fudge facts and figures. This process forms a solid foundation for a legal case should the necessity arise.
SHARE THIS TO ALL YOUR CONTACTS
LIVE COMMENT FEED
Displaying newest 10 comments sent. Reload the page to see more.
2018-09-01 09:28:28 +02:00

Wilbur

No to this bill.

Totally INSANE stuff!


2018-08-24 00:49:55 +02:00

debbie

No to this bill.

Oh my word not again south Africa going to the dogs ,it's very sad

2018-08-23 18:05:48 +02:00

Alex

Yes to this bill.

While I approve of this bill, I (like many others) have reservations about the governments ability to effectively implement this bill, and the purpose of the tax that will be collected. One has to simply look at the "plastic bag tax" whose collections went to the general tax fund instead of being especially earmarked for recycling and reducing of plastics (as promised).

2018-08-17 07:53:46 +02:00

Deon

No to this bill.

it is not fit

2018-08-17 07:18:36 +02:00

Kgauhelo

No to this bill.

I am this bill because it has nothing to do with carbon. But the change in climate is a natural cycle of our solar system coming closer to the Sirius star system. This is a well known and we'll documented fact in Africa

2018-08-15 13:18:13 +02:00

Mansoor

No to this bill.

It is with a very have to say no however until such time the politicians knows how to manage financials in general its best wait and put laws in place to not have unqualified people handle these financials snd also strictef laws that keep these qualified persons accountable.if all thes are sorted then a more holistic approech to laws snd bylaws be taken in all aspects related to the people and its country and not onesided ness otherwise this land will burn like sny other sfricsn coutry and out us back anothet 100yrs .

2018-08-08 13:20:09 +02:00

christa

No to this bill.

The ANC government is eyeing the huge monetary reward that is promised to the government with the lowest carbon footprint. History has shown that ANC politicians plunder the State's coffers so we can know the only reason this destructive regime wants to pass this Bill into law is for self-enrichment.

This Bill will have no healthy benefits to South Africa. Taxing the populace more will only add money to the State coffers for a little while longer before the cow currently being slaughtered, dies. The middle class is disappearing because of taxes, draconian labour laws, and political actions focused on causing conflict between the different cultures.

Furthermore, this Bill is based on the fallacy that the earth is warming up, when scientists have proven that it is actually cooling down. Overpopulation is a myth, and the average person is not guilty of destroying the earth's resources. The main cause of all the death and destruction that does exist, is wars caused and perpetuated by greedy powerful politicians.

I want to remind every person who is pushing for the destruction of a healthy nation, for the robbery and death of the population, of the following: Those who live by the sword, will die by the sword. The wicked will perish in their wickedness and they will pass away like chaff in the wind. Truth and Justice cannot be written away by immoral laws, for it is eternal. So the reward these politicians might gain are only temporary. Be warned.

2018-08-08 10:32:01 +02:00

Glenn

Yes to this bill.

Climate change poses a massive threat to the safety, health and wellbeing of all South Africans and our environment. The science is settled. Climate change is happening and we are responsible for it. We have a responsibility to act to reduce climate change. This bill is an important step towards achieving this. I am fully in favour

Dr Glenn Moncrieff

Scientist at the South African Environmental Observation Network

2018-08-07 15:09:48 +02:00

sandy

No to this bill.

I do not agree to this bill

2018-08-07 14:41:11 +02:00

Jan

No to this bill.

This tax will not achieve what it aim for. More funds will be paid to government & will be squandered.
As a manufacturer the tax will be collected from the citizens of the country further reducing disposable income & burdening citizens.
The basis is wrong and false. Another project to collect and spend funds on where it will not make a contribution to lives that matter.
SUMMARY
The bill determines that all persons must submit a climate change plan and will be allocated a Carbon Budget by the Minister. Those failing to comply with the allocation will face fines of up to R10 million and/or 10 years imprisonment.

The purpose of the Bill is to build an effective climate change response and ensure the long-term, just transition to a climate resilient and lower

carbon economy

and society.
This will be done within the context of

sustainable development

for South Africa, and will provide for all matters related to climate change.
The Bill acknowledges that

anthropogenic climate change

represents an urgent threat to human societies and the environment, and requires an effective, progressive and well-coordinated  response.
It further highlights that, amongst others, anticipated domestic climate change impacts have the potential to undermine the country's development goals, and that responses to climate change raise unique challenges, thus requiring a legislative framework for the implementation of the country's national climate change response.
The National Climate Change Bills addresses issues related institutional and coordination arrangement

across the three spheres of government namely national, provincial and local.

It further highlights the need for the spheres of government and entities, sectors

as well business

to respond to challenges of  climate change.
The bill further address the matters relating to, the national adaptation to impacts of climate change, greenhouse gas emissions and removals, and policy alignment and institutional arrangements.
The objects of the proposed Act are to:
Provide for the  coordinated and integrated response to climate change and its impacts by all spheres of government in accordance with the principles of cooperative governance;
Provide for the effective management of inevitable climate change impacts through enhancing adaptive capacity, strengthening resilience and reducing vulnerability to climate change, with a view to building social, economic, and environmental resilience and an adequate national adaptation response in the context of the global climate change response;  and to

Make a fair contribution to the global effort to stabilise greenhouse gas concentrations in the atmosphere at a level that avoids dangerous anthropogenic interference with the climate system

within a timeframe and in a manner that enables economic, employment, social and environmental development to proceed in a sustainable manner.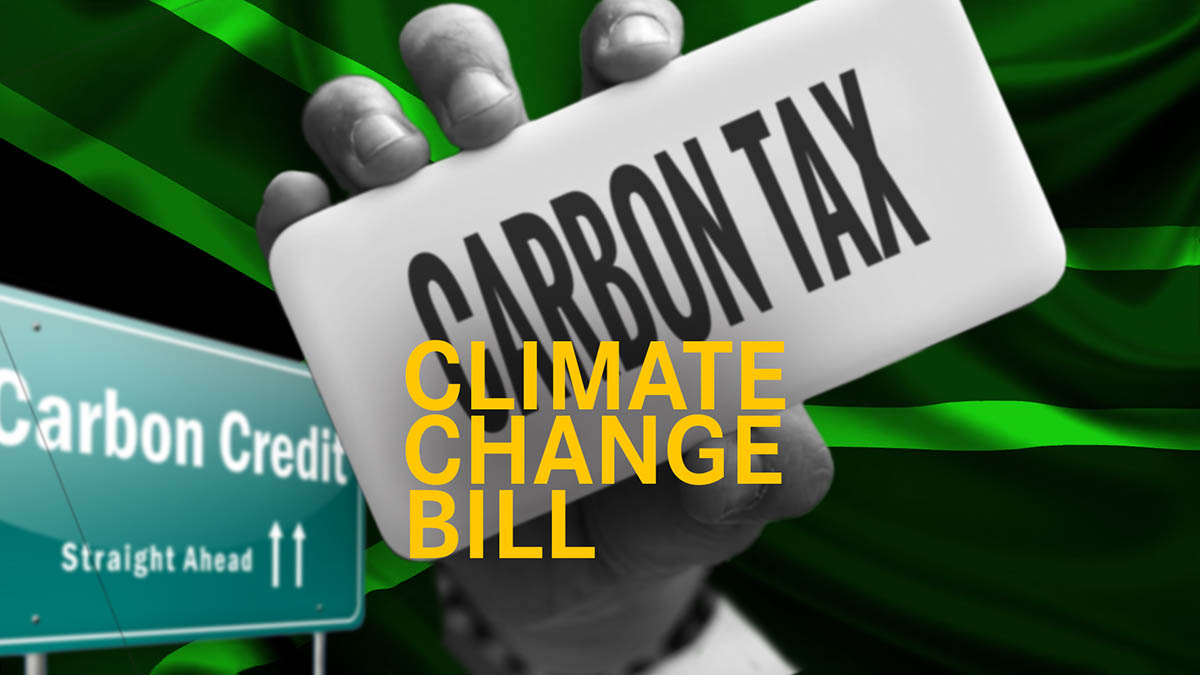 A WORD FROM A SPONSOR