The Department of Environment, Forestry and Fisheries has invited members of the public to comment on the intention to amend the Environment Conservation Act Plastic Carrier Bags and Plastic Flat Bags Regulations.
The amendments do NOT ban plastic bags but state that plastic carrier bags and plastic flat bags must be made from a minimum of 50% post-consumer recyclate from 1 January 2023, 75% of recycled materials from 2025 and must comprise 100% post-consumer recyclate from 2027.
7496 participants
(closed 7 September).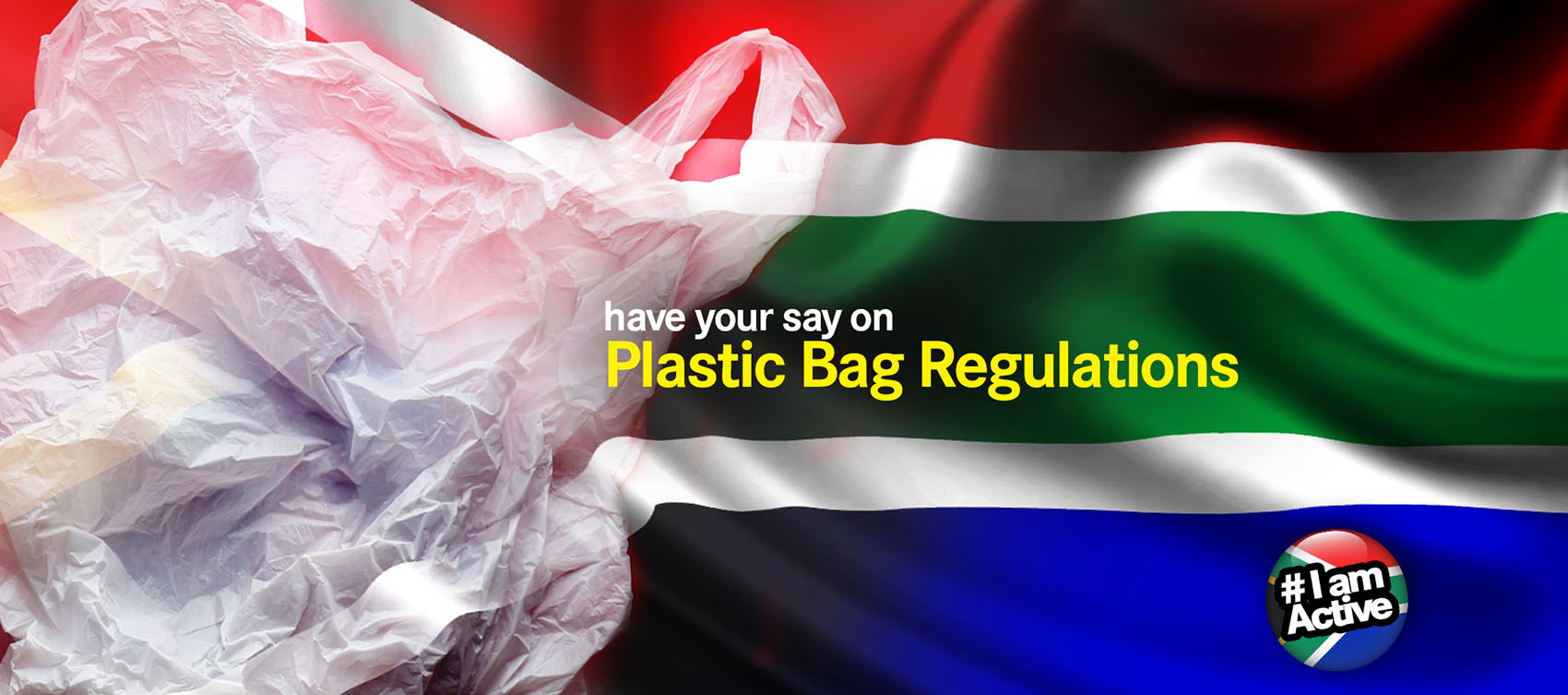 Have your say – shape this policy.
Comment from The Civil Society Plastic & Waste Initiative
Demand that South Africa bans Plastic Bags
South Africans should reject the government's feeble new plastic bag rules and call for a complete ban of these easily replaceable, single-use items that bring short-term convenience at the cost of huge long-term environmental harm.
A seven-year timeline for plastic bags to be made from 100% recycled material is far too weak. Instead, we need legislation that will have a real and immediate impact.
South Africans use around 8 billion plastic shopping bags per year, despite a plastic carrier bag levy introduced in 2003, and large numbers of these bags are indiscriminately dumped.
The equivalent of one garbage truck of plastic enters our oceans every minute and by 2050, scientific research shows that there will be more plastic by weight in the ocean than fish. Around ten million bags are used every minute worldwide – and around half are used just once before being thrown away. Every plastic bag is used for only 15 minutes on average – but it can take up to 500 years to decompose. In fact, all plastic remains in the environment forever, in the form of microplastics that are invisible to the human eye.
Plastic is killing wildlife, harming our oceans, clogging up rivers and sewers, costing South Africa millions in municipal waste management, destroying people's livelihoods, infiltrating the human food chain and causing cancers and birth defects. Scientists have found plastic in tap water and even in salt and beer.
It pollutes our water resources and contributes to climate change throughout its entire lifecycle, from cradle to grave, due to fossil fuel extraction and transport, plastic refining and manufacturing, thereby undermining our constitutional right to an environment that isn't harmful to our health or well-being.
Plastic debris not only results in high cleaning-up costs but also brings huge losses for the tourism, fisheries and shipping sectors, which will certainly undermine our post-Covid economic recovery.
Africa is leading the way globally in the fight against plastic pollution as 35 out of 54 states have already banned plastic bags.
South Africa should join them by immediately prohibiting single-use plastic bags being sold or freely offered at point of sale and then phasing them out. By 1 January 2023, they should have been completely replaced with long-life carrier bags made from 100% recycled materials.
More than 13,000 South Africans have called for single-use carrier bags to be banned. Join them by saying a firm "No!" to the government's greenwash proposal.
ENABLING YOU TO SHAPE GOVERNMENT POLICY
Dear South Africa is a legally recognised and constitutionally protected non-profit platform which enables the public to co-shape all government policies, amendments and proposals. We've run many successful campaigns and have amassed a considerably large active participant network of over 750,000 individuals across the country and beyond.
We do not run petitions. We run legally recognised public participation processes which allow citizens to co-form policy at all levels of governance. Whereas petitions, even if they contain thousands of signatures, are considered as a single submission by government, our process ensures that each comment made through dearsouthafrica.co.za is recognised and counted as an individual submission by government.
Furthermore, we keep an accurate record of all participation and produce a publicly available report at the end of each project. This report forms the foundation of a sound legal case should the necessity to challenge the decision arise.
Participation costs you NOTHING, and is so easy and quick to do through the platform that you really have no excuse not to help shape policy BEFORE it becomes law. Legally challenging implemented law is costly and rarely successful. Prevention is better than cure.
Participation in decision-making processes means a possibility for citizens, civil society organisations and other interested parties to influence the development of policies and laws which affect them. We've made it easy for you as a responsible citizen of South Africa, to influence government decisions before they are made.
Subscribe to our YouTube Channel